March Update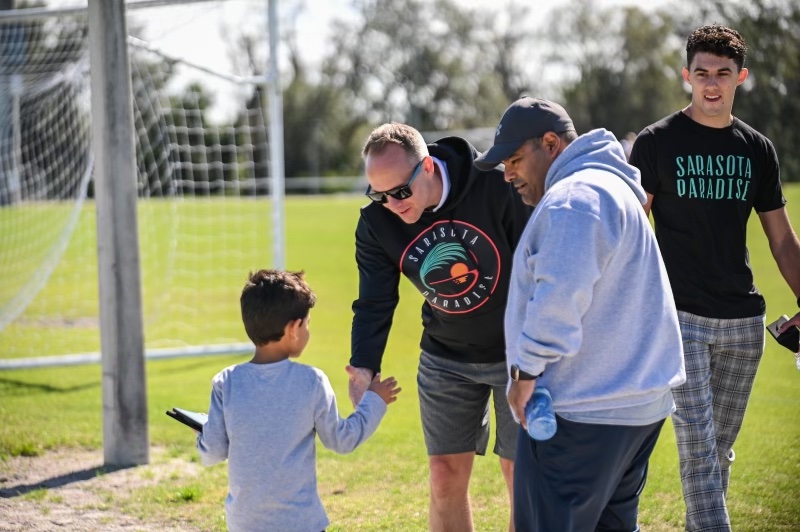 To Fans of Paradise,
We're entering a new month that brings us closer to our historic first soccer season in Paradise.
February saw our first ever tryout with 60 ambitious players (we sold out…!) at Tatum Ridge Elementary. We're grateful for the assistance of FC Sarasota in organizing the event. Our second and last tryout for this season will be held on March 11 at Braden River SC, 5490 Lakewood Ranch Blvd. Drop by between 10 am and 1 pm that Saturday and say hi!
This tryout is the last chance for any "walk-ons" to our team. Our coaching staff, led by the amazing Andy Thomson already has a list of over 40 extremely talented players. He has spoken to hundreds of players, coaches and other references over the last couple of months. This to make sure that we not only have talented players on our team, but also great human beings. What makes me extremely happy is that 95% of the players on his current list have a connection to Sarasota!
We want a team on the field that can represent our amazing community in the best and most authentic way possible. This can only be done through a team where the majority of players have spent significant time here. Unfortunately, not all of them have housing options. If you would like the opportunity to host one of our talented players during the season, please send us an email.
Our team is nothing without you, your family and your neighbor. As the season is coming closer we are increasing our efforts to drive awareness both on social media and in our community. We have opened up group season ticket sales and if you are interested in how we can help your organization grow and get more exposure, send an email to sales@sarasotaparadise.us
I get a lot of questions about when the jersey and additional merchandize will arrive. Our creative director has submitted the final design to our excellent kit supplier Podiumwear. We are awaiting confirmation on jersey partner(s) on the design before we send the OK to Minnesota. Since we do like a good party, we'll probably arrange one in April and dress you up in our jersey's. We'll also present a surprise or two…
March will be an intense month with the tryout, hiring of more people, bringing on a lot of corporate partners and recruiting season ticket holders. We'll spend time planning the best game day experience in our league and the Jersey Reveal Party in April. If you are interested in volunteering during the season, please let us know!
It's Time For Sarasota.
Marcus Walfridson
Sarasota Paradise